Sic transit gloria mundi
Pathfinder: Kingmaker, much as the rather unimaginative title indicates, is a game about the establishment of a kingdom. Yours. From the political machinations of a nearby Duchy that wishes to create a possible alliance against their enemies they aid in not only granting you the land but also in financing its establishment. From there in true fantasy style a new threat emerges, an old curse exists upon the lands that gathers the remains of previous empires, atoning for a mistake from the past.
Like many of the cRPGs of recent years Pathfinder: Kingmaker is the product of a crowdfunding success story that propelled the small Russian studio of Owlcat Games into the limelight. Though it's initial release was marred by numerous bugs and balancing issues, subsequent patches largely fixed many of the issues, and the release of the Enhanced Edition incorporated a great deal of player feedback to improve the overall quality of the game.
Story
Pathfinder: Kingmaker is truly epic in scope, not only does it span multiple playing hours but in terms of the game world it explores millennia. In doing so it can elaborate on its them of civilization and barbarity, the transient nature of empire and the various ways they rise and fall. This is done most notably through the various chapters of the main campaign, each of which focus on one or more kingdoms that had once existed in the territories of the Stolen Lands. Not only is internal strife and decadence explored but also external threats, and natural disasters, whether it be plague or climate change. Accompanying these hints from the past for the discerning lore master, the actual campaign itself also expounds on these ideas, with each chapter of the campaign unfolding a new threat to the governance of yourself and your advisors (who are selected from your various companions).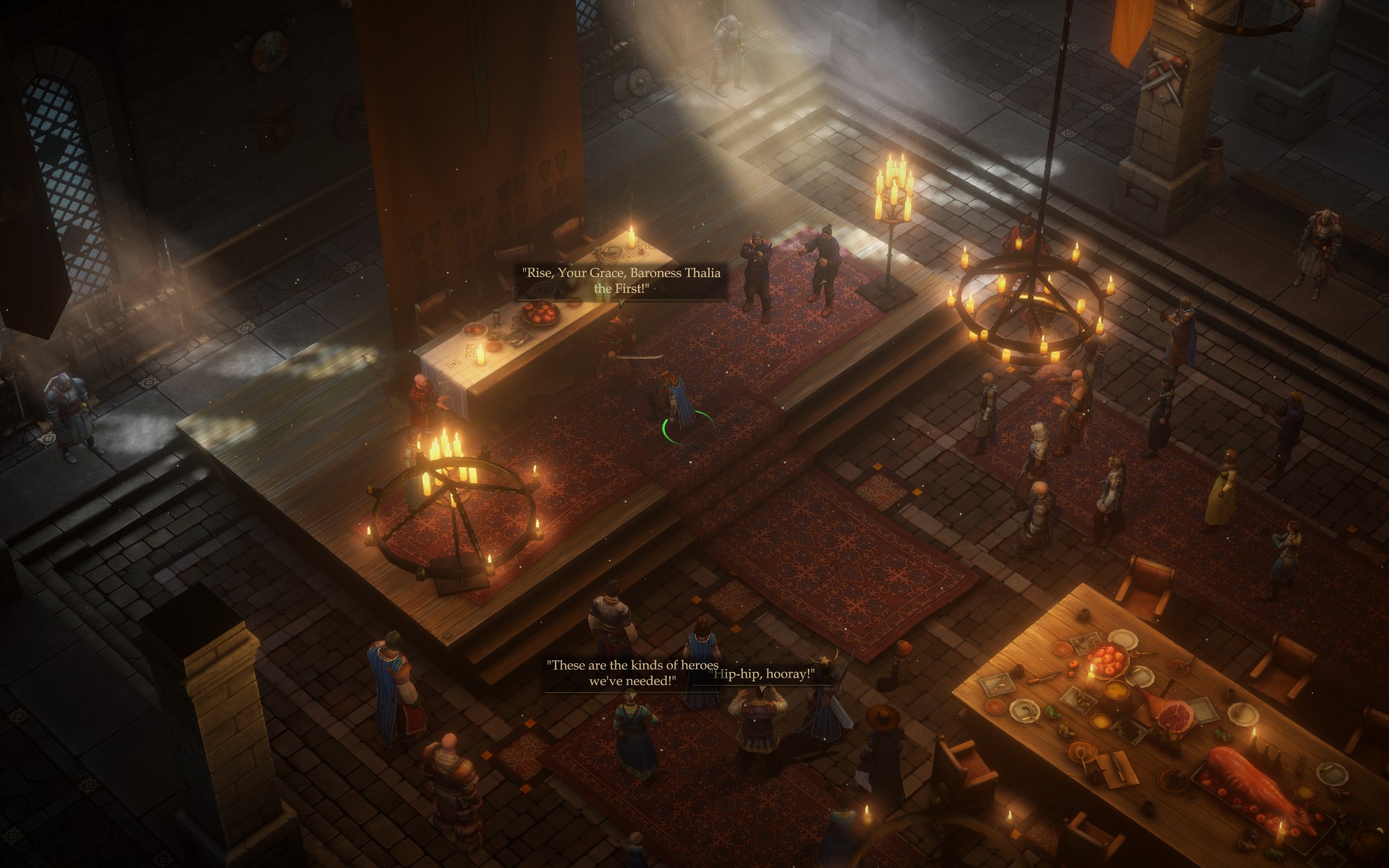 The choices here are unprecedented, you can recruit erstwhile enemies to assist you, (provided they have a similar ethos to governance as you), shape and change the fates of your companions due to your influence over them, and in some cases might just roleplay their influence on your character as well. And they are an interesting lot, from the grandiose delirium of Nok-Nok the goblin, to the stalwart Valerie, and erudite Jubilost, there's a lot to uncover about each companion.
Of course, they do have accompanying side-quests to expand upon their choices and influence them, as well as the option to romance some of them. Many of the options taken in these side-quests also have additional impacts upon the fate of the kingdom later on, though they aren't realised mechanically. The characterization of each is superlative, from the erudite, pomposity that characterizes Jubilost's speech, and his accompanying focus on rationalism and rhetoric to the crude yet good natured banter of Amiri, each companion has their own distinct style of speech. They also might unintentionally work against you. Lindzi for instance procures some of the kingdom's funds to assist one of her dreams. Depending on how you've managed your kingdoms finances this may either be an absolute disaster, or you just shake your head, and wonder why she just didn't come and ask you in the first place since you would have happily assisted her anyway. Even with such inadvertant setbacks however the game does recompense you in some way. In the case of Lindzi, you do receive a building later that covers the cost of what you initially lost.
The kingdom itself shares a story with you, changing significantly based on the decisions you make, whether its populated with monsters, a mercantile success, or a generic tyranny there's multiple ways to craft its story. This is realised in short excerpts from the kingdom management screen, and are known as "problems" and "opportunities", choosing different advisors (with different traits) will have varying outcomes, not only can they fail or succeed but different individuals handle matters differently. Some of these permutations can be seen as many of the "opportunity" events are recycled (which leads to some story fatigue) but they also shape the alignment of the kingdom, having distinct outcomes for how the people are governed.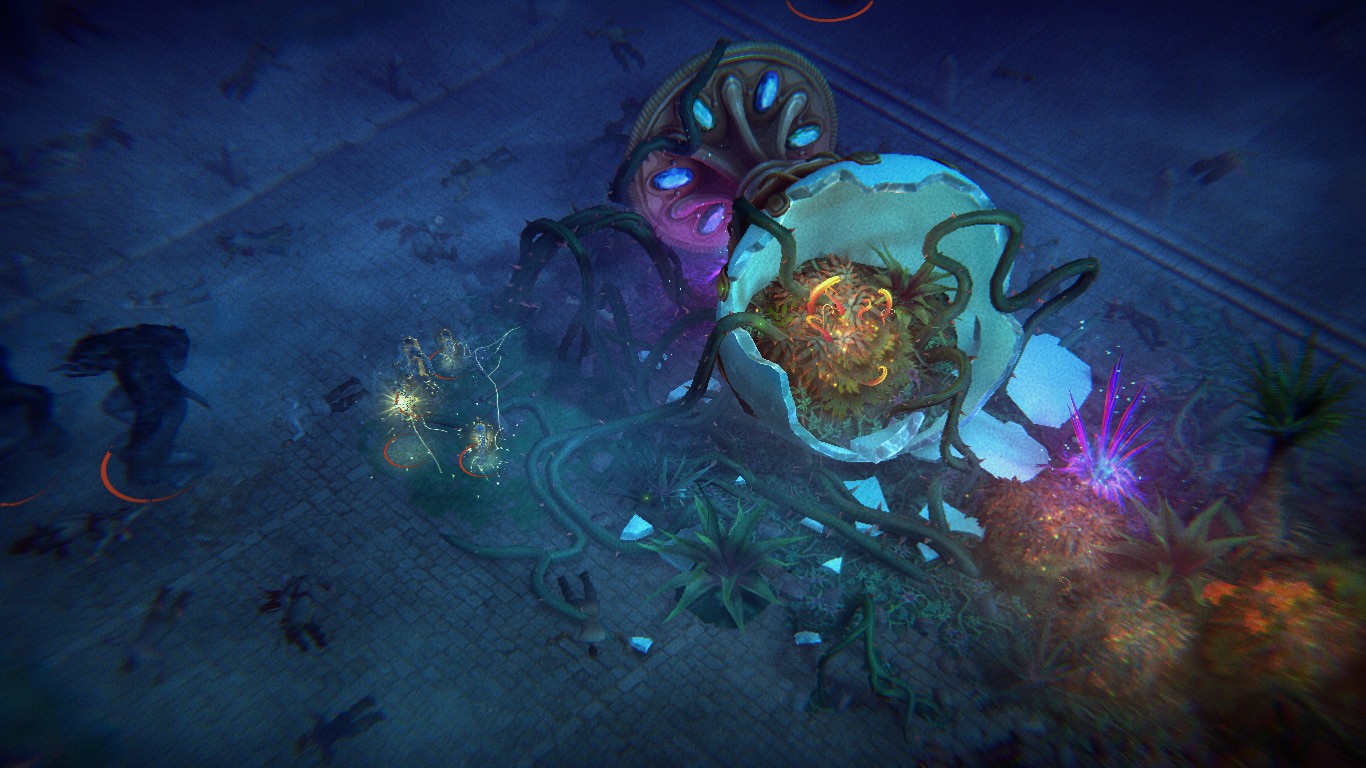 The main story itself has a fairly generic ultimate villain, but the secondary villain is the main antagonist for most of the game, and she is rather unique, however it's up to the player whether she will be viewed sympathetically or not. The main story is also imperative in forcing and encouraging exploration. Most of the structure turns upon a threat whose mystery must first be uncovered, then investigated and finally confronted. This pattern unfolds for each chapter. The greatest criticism I can level is that after a while this feels uninspired, but the mysteries themselves are intriguing enough and pull the player to explore the world further, which is after all one of the great joys of playing a cRPG, adventuring to uncover new dangers, treasures and above all to gain experiences (xp points too).
Gameplay
Kingmaker truly excels in its game-play. The combat mechanics are robust and adaptive to varied play styles. Characters can be built in various ways and , on harder difficulties tried and tested builds will need to be used in order to min max stats, however easier difficulties (including a story mode) allow for more experimentation in builds and are forgiving if you make a few mistakes in a build. The mechanics will be familiar to any person whose encountered a cRPG game before. From elemental to physical damage types and their relation to damage resistances, the need to create a party with multiple ability types, to work in concert together. All the normal roles apply.
Nothing is truly innovative here, wizards can work as heavy damage dealers or crowd controllers, rogues can provide debuffs and concentrated damage, fighters work as tanks, bards as buffers/debuffers. It's all familiar and comforting terrain to veterans of the genre, but not overly complicated for newcomers to work out.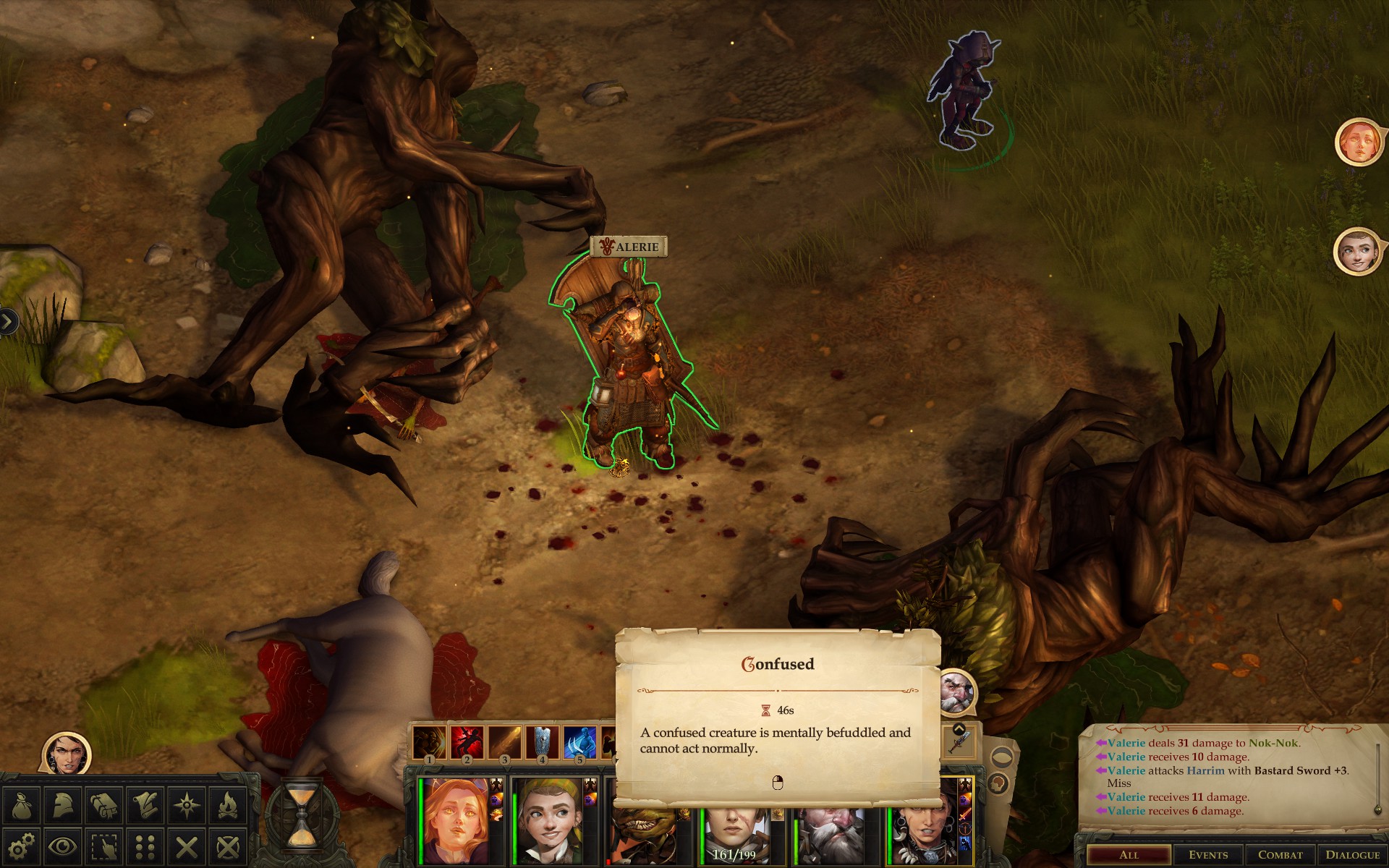 General play will consist of observing the encounter beforehand, time spent buffing your party before launching into attack. Positioning of characters is important (you don't want your wizard to land their fireball right upon your tanks head with their low reflex save) and at times controlling the flow of battle will require deftly moving your characters around. Managing debuffs upon your party is also important at higher levels, and not controlling them can result in a few rather hilarious scenarios, that leads to emergent storytelling, such as when Valerie, the noble fighter ended up slaying a unicorn, going insane from a spell inflicted upon her by the dryad who looked after the beasts, she turned upon the party… terrified by their normally steadfast and loyal companion they hid in terror waiting for her to calm down… only to witness her hit herself between drinking bouts of beer. Its moments like these that shape and make your own adventurous tale.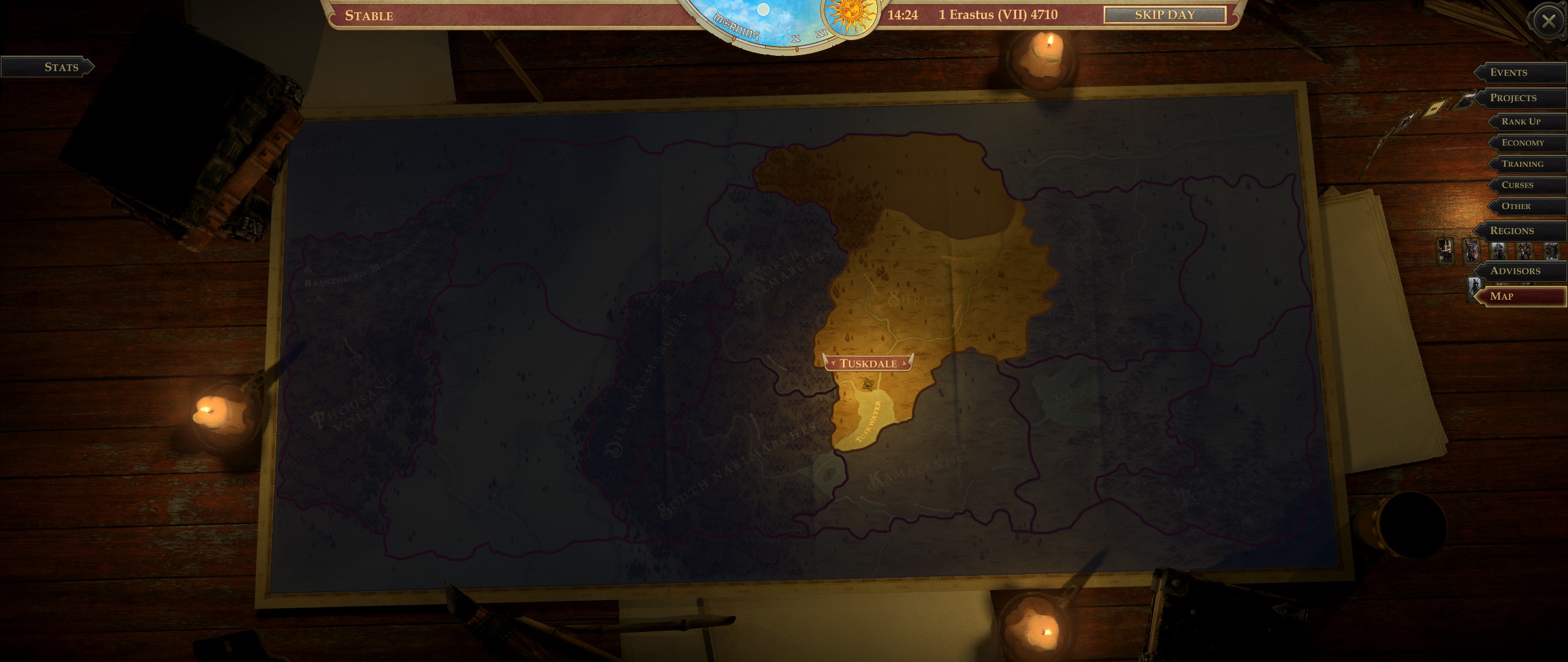 Exploration occurs across a world map with isolated encounter areas (as well as random encounters when travelling between locations). At first most of the map is unavailable with higher difficulty levels being locked until you've expanded your power enough to access them, that is not to say that difficult encounters are not hiding tucked away in caves in earlier areas though… discretion is the better part of valour. In addition, some areas will require repeat visits, as new quests will be linked to that area. Encumbrance impedes exploration and acts as a serious hindrance, slowing travel time which affects the games overall time pressure. It's not a huge role but is something to be aware of, if a quest timer is close to ending. The area is not free-form exploration sadly. You are confined to the paths that you find between nodes. It's a step back from the slightly freer feel of Baldur's Gate but not out entirely out of line with more recent cRPGS that also have limited budgets and so restrict encounter areas.
Each encounter area is filled with various side-quests or unique enemies to fight (and loot) however the major dungeons are reserved for areas associated with the main campaign. Many of these dungeons have multiple levels and distinct puzzles associated with them as well as some rather difficult combat challenges. The game also does not shy away from splitting your party on more than one occasion. The dungeons themselves are generally well-crafted experiences, with challenging encounters as well as various puzzles to solve. In some dungeons these puzzles take precedence and can be rather obtuse in their riddling, however compared to games like Pillars of Eternity and its sequel Deadfire which had very few puzzles its pleasant to encounter such riddles again. Sadly, one of the dungeons has some rather complex coding associated with its puzzle and it can be quite buggy, it's also exceptionally late in the game so multiple saves are mandatory… of course.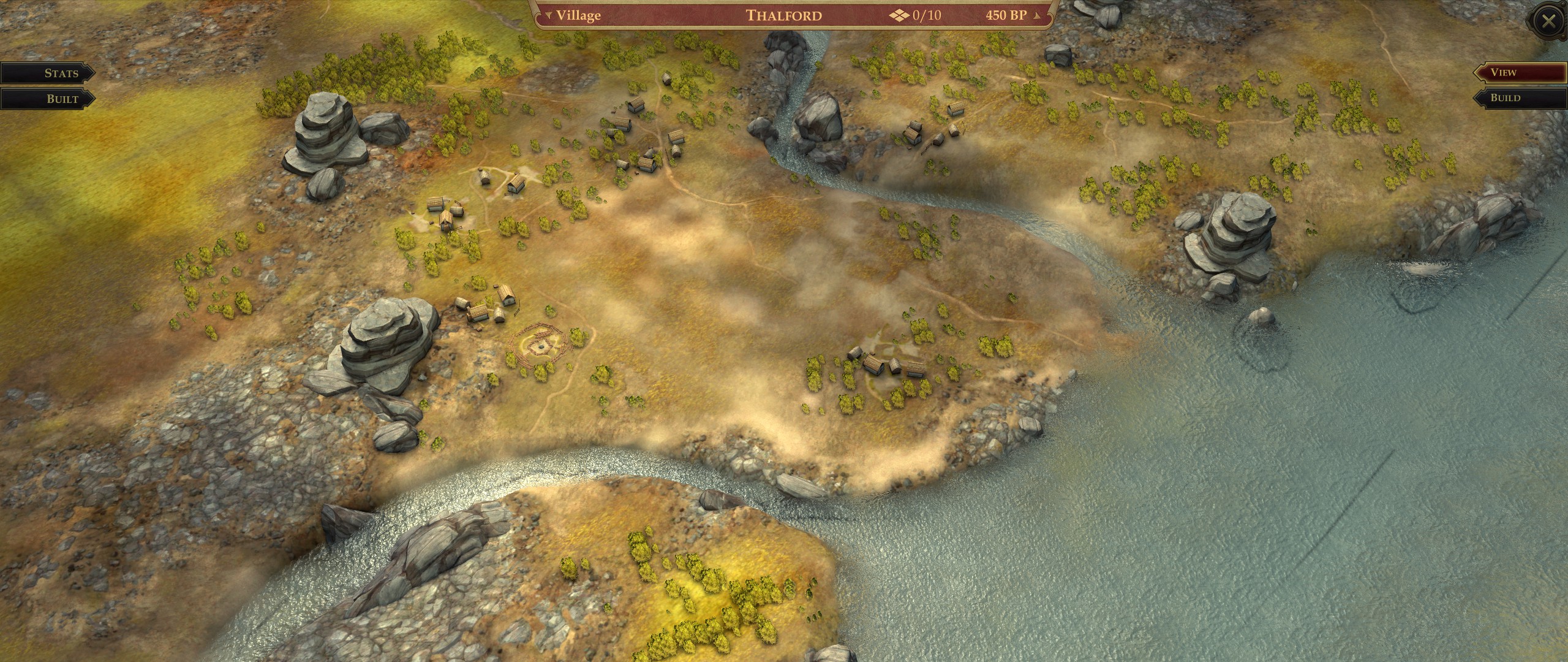 The other important aspect is the Kingdom itself. The kingdom is assigned various stats, such as loyalty, espionage, military, arcane and culture that link to various domains of society. These stats are boosted by assigning the appropriate ministers to events and granting them time to complete them. In addition, you can construct villages with various buildings that provide boosts to said stats, and some buildings even decrease the difficulty for the encounters by providing bonuses. Your companions may be assigned as advisers in a vaguely nepotistic faction however there are other advisers you can assign and complete tasks to enhance their governing abilities. Who you assign is important as it shifts the alignment of your kingdom, which further determines what buildings you can include, not to mention their own allegiances, that just may result in a betrayal? The kingdom management also has certain tasks that only the player character can complete, such as annexing neighbouring lands that results in time lost for adventuring. This is where a more strategic layer of play develops, balancing the cost of assigning various advisers, (also dependent on which adviser is available), upgrading your kingdom and completing the timed quests. It's a unique and heady blend of strategy that is utterly new for the genre. The only issue is that it can result in not being able to see some content if managed poorly, the same issue that games like Avernum 3 had as well.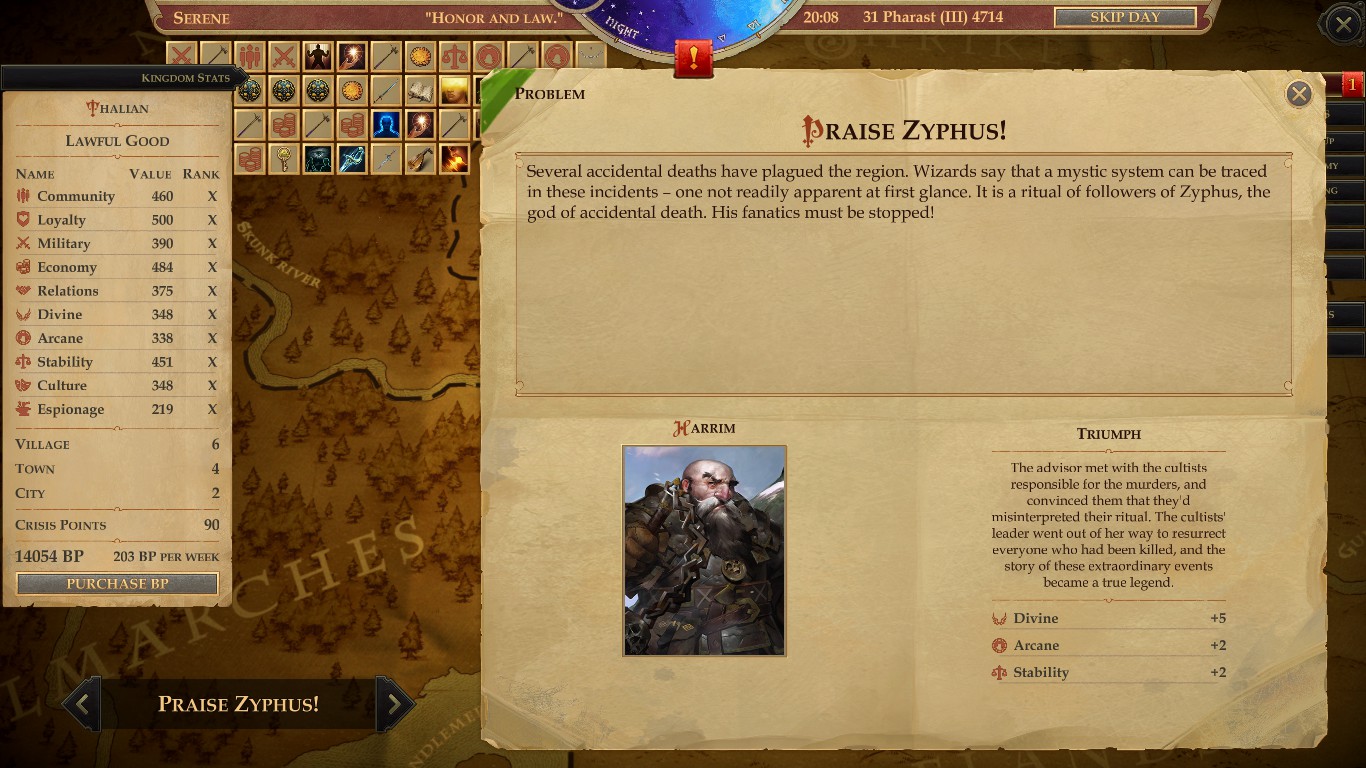 Since the success of the Kingdom also factors into the completion of the game, managing it well is a necessity. Like the keep in Neverwinter Nights 2 ruling your people (or monsters) well and looking after their safety is a necessity. Integrating the success of your kingdom to concepts such as the health of the ruler is linked to the health and prosperity of the land are born out later in the story as well. This is a refreshing change from the unimportant management aspects of games like Pillars of Eternity where Caed Nua plays an unimportant role in the games story (at least only as a cut scene as a prequel to the second game does it gain significance) and Dragon Age: Inquisition where the missions don't really bear much impact on the overall story except perhaps to fill in a few sundry details.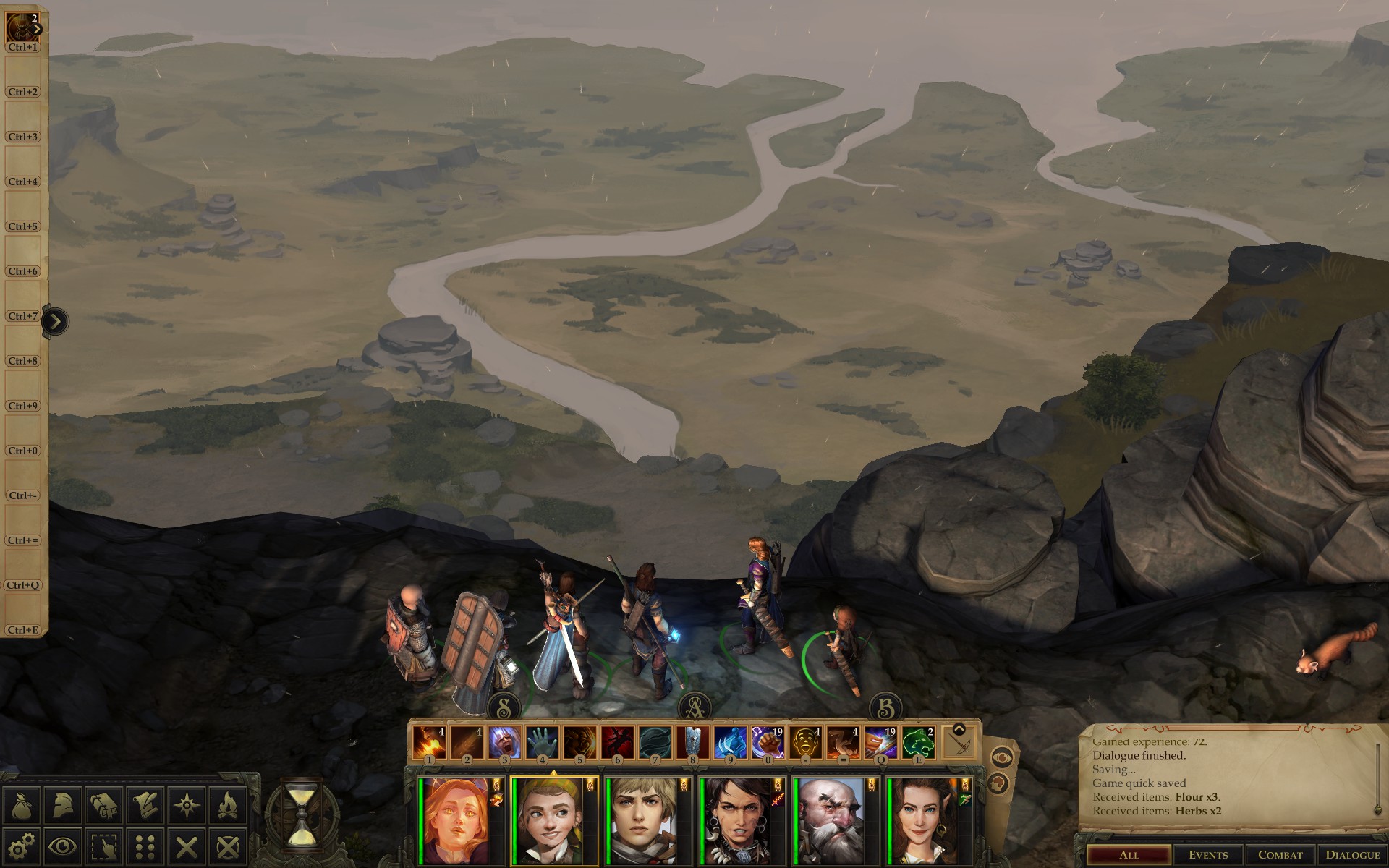 Other things to note is that there are some keyboard shortcuts, but I didn't find or use any party management shortcuts (e.g. for melee vs ranged members) which was frustrating. Also, the game is active time with pause so prepare for your spacebar to be abused.
Graphics
The graphics are quite phenomenal, there are some gorgeous lighting effects and there is very little issue with textures. A great amount of detail has been paid to monster designs, from the irascible mites to the gargantuan Crag Linnorn's they are rendered with unique animations, that are particularly noticeable when it comes to combat. Combat itself is a visual feast, the array of spells and spell like effects dazzle across the screen, and make a wonderful visual counterpoint to the slowly increasing feel of power. Death and critical hit animations, have enemies (or your characters) reeling backward or stumbling, and with a well-placed heal, lifting themselves with effort to join the fray again.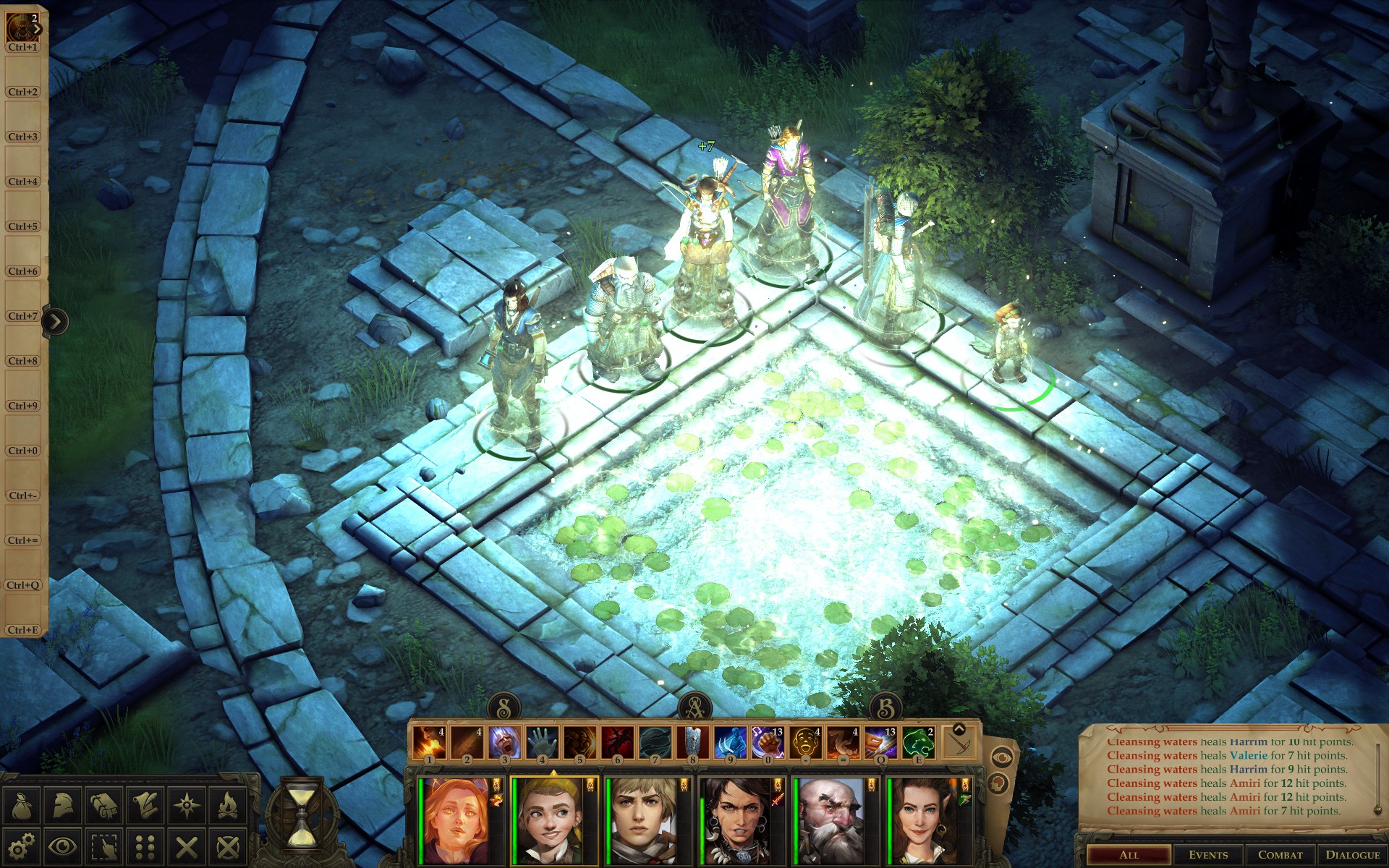 The UI is fine on lower resolutions with lots of detail at a glance but can be slightly too small on larger screens even with the option for text scaling. Additional information such as enemy stats are not readily available with a mouse hover (such as in Deadfire) but are available using the "y" button on English keyboards, this was somewhat frustrating as I'd have preferred combat information to be available more readily.
The in game menus are pretty comfortable to view and easy to sort, however some of the icons are a little too similar, this was particularly frustrating with scrolls and some of the potions that meant you had to hover slightly over the potion to check it was the correct one, you wanted to select which slowed down combat at times, one way to overcome this is to use alphabetical sorting.
Music
I was somewhat surprised when starting to play the game and thought for a moment I was hearing Dragon Age: Origins again, because the chord structure is nearly identical. This is of course due to the soundtrack being largely composed by Inon Zur. He's an excellent composer, however at times the similarity in music evoked memories of other games which actually detracted from the experience with Kingmaker. What was particularly wonderful though was the kingdom having music associated with its state, a lawful good kingdom has very different ambient music to a chaotic evil kingdom, add in the music for specific areas, as well as each boss having a soundtrack designed especially for them and you've got hours of music to accompany your play. The music seems to draw heavy inspiration from European folk melodies and the choice of instrumentation, lends itself well to the standard medieval fantasy setting.
Additional sounds make the world come to further life, whether it's the varying sounds of your footsteps across different terrain or the sound of magic combusting, the game is an absolute aural treat, making the animations come alive.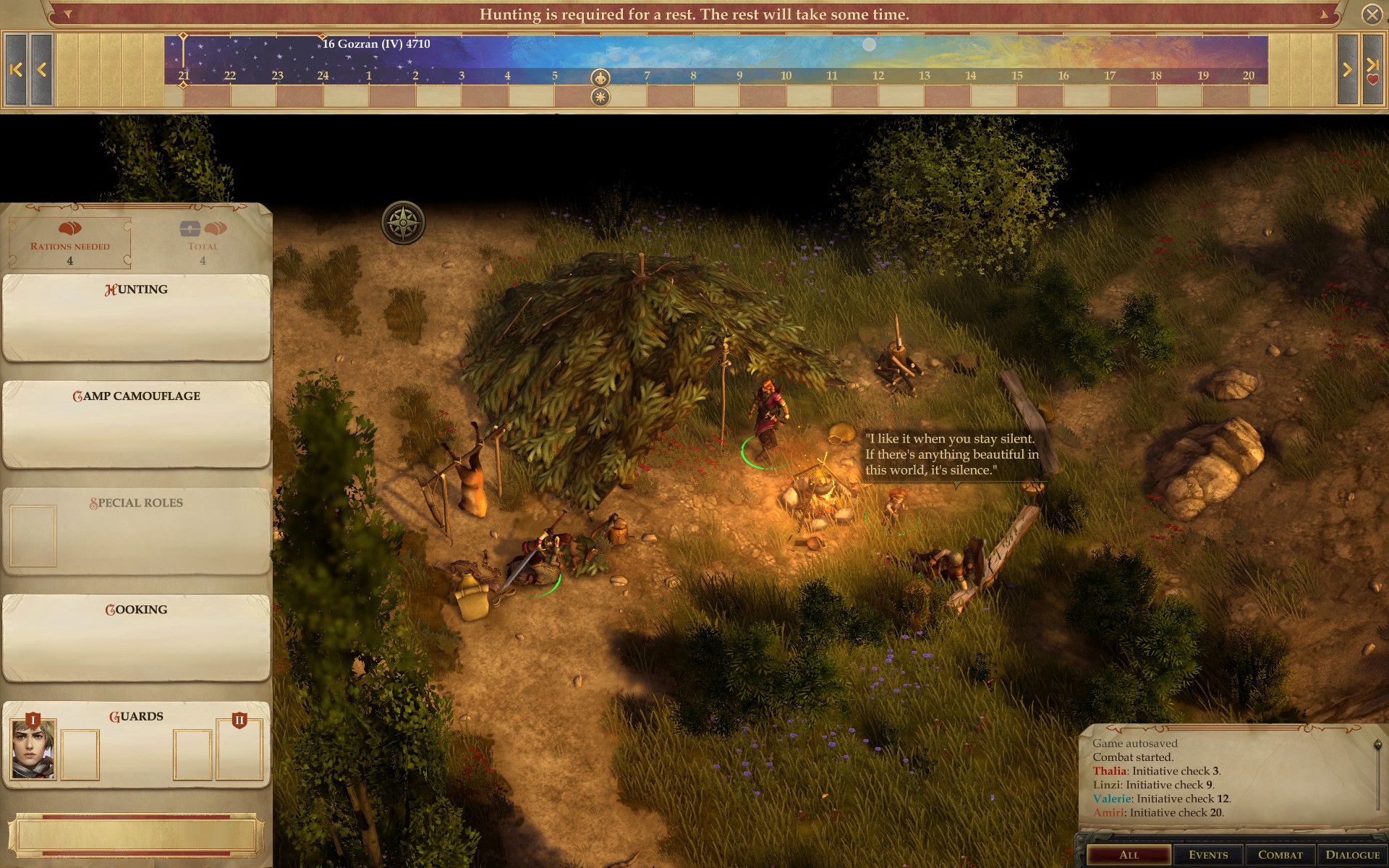 Even the voice-acting is well done. The emotions are well conveyed, and though not all dialogue is voice-acted, most of the main campaign is. The emotions are subtly portrayed with layers of nuance, and vastly aids in making the characters more sympathetic. Sadly budget constraints meant that party resting banter is limited to only two lines of exchange which doesn't really convey the relationship between the two companions involved, where even three lines with a second response would have done more to establish their relationships.
Conclusion
Pathfinder: Kingmaker is one of the great cRPGs, despite its rather difficult launch, the enhanced edition is generally a treat to play, despite still having a few bugs. It's exploration of rulership and governance sets it apart from its contemporaries, and whilst it lacks philosophical depth directly in the writing, the concepts are there for the attentive player to explore. It may not have the philosophical complexity of Numenera or the verbosity of Deadfire but it is far more accessible than those games, and still incredibly entertaining to boot.
Score ~8/10~
Pros
Incredible and lengthy narrative that has multiple plot twists
Well fleshed out companions
Engaging combat system that offers tactical depth
Lush and colourful graphics
Cons
Rather generic in its medieval fantasy setting
Time management on quests creates sense of pressure and reduces willingness to explore
An area at the ending is rather prohibitive if you haven't fully explored the side-quests from earlier in the game
Publisher: Deep Silver
Developer: Owlcat Games
Platforms: Windows, Mac, Linux
ESRB: – / PEGI: –
Available from: Steam, GoG.com, Humble Store
Banner image is used under fair use. The images in the review are from the author's own playthrough.
If you enjoyed reading this please consider hitting the like button or subscribing.